Indian resto vets come to NYC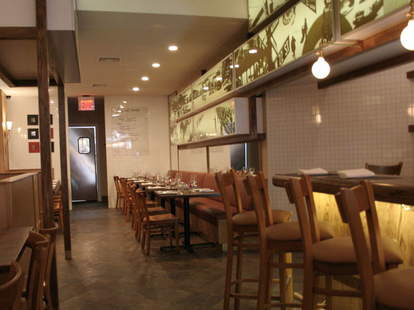 When coming to America, many foreigners attempt to assimilate to our culture, but what are they to do now that Eddie Murphy's dead?? Take on our varied cuisine, that's what, at Highpoint Bistro.
With 23 restos under their belt in Northern India, the team behind HB came to NYC and decided to tackle our melting pot cuisine, tapping a David Burke alum to helm the stove; comfortably lit by brass fixtures, exposed brick walls're lined with sketches of the city's famous landmarks and light boxes that "graphically depict" the journey of ingredients down the Hudson, so where's all the sausage getting grinded? Bites begin with jumbo lump crab cakes with rice crispies/asparagus/mustard seed emulsion, tuna tartar tacos w/ avocado mousse & seaweed salad, and buffalo chicken lollipops w/ blue cheese fondue; there're also hearty bowls of Sherry'd onion soup (w/ apples and manchego /mahon cheeses) and corn/chorizo/clam Chelsea chowder (chowder? I hardly know her! Also, isn't this Chelsea?). Bigger portions include hand-made pastas (fettucini w/ prosciutto meatballs & Sunday gravy); seared day boat scallops with corn puree, chorizo, and popcorn; suckling pig stuffed with lentils and bacon; and the XO fried rice/Chinese sausage/bok choy "ShrimpZilla", which left the ocean to lay waste to your downtown.
The beverage program'll focus on affordable ($25/$35/$45) bottles of wine, standard draught/bottle brews, and cocktails like a lime & salt garnished Margarita made with house-infused habanero tequila, so spicy it'll send your taste buds into Norbit, R.I.P.