Seeking out the city's suds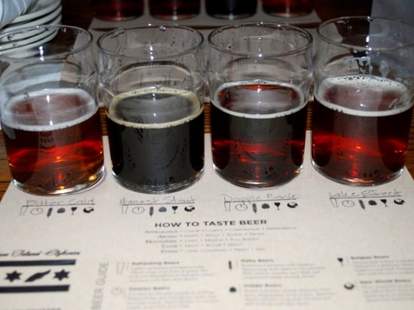 Bus rides can be rough, between having to sit next to the smelly kid, the bullies stealing your lunch, and the cool kids refusing to let you sit in the back. Man, maybe it's time to start driving to work. For a bus ride that doesn't suck, board the Chicago Brew Bus.
From a pair of beer-loving dudes who met at a bar (natch), the CBB's a brand new exploration of the local suds scene, carting groups of 14 hops enthusiasts to three local breweries under the operating slogan "We'll Drive You To Drink", a job that's usually reserved for the Cubs. Tours launch from the Goose Island Brewery, making stops at Moonshine in Wicker Park and the West Loop's Haymarket before heading back to GI for the final tasting, where people can linger as long as they like and enjoy some comestibles, hopefully curing what ales them. Along the way the guides point out drink-centric landmarks like Emmit's Pub (of Backdraft and Uncle Buck fame), while delving into a detailed discussion of Chi's beer history, from pre-Prohibition brewers/bar owners with prominent streets named for them (Diversey, Caldwell), to the days when Schlitz was the city's biggest landowner behind the Catholic Church, which always preferred a nice Hail Bloody Mary.
They've also outfitted the bus with a custom-built bar, and when it isn't touring, folks can rent it out for bachelor parties and such, so even those not sitting in the back can hang out with women who have some.