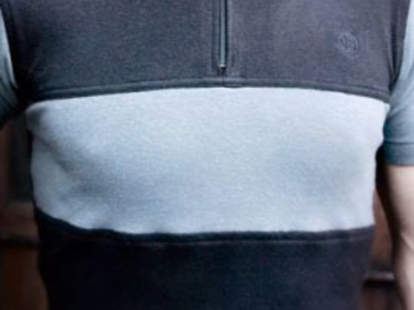 Bike messengering means being prepared for anything, whether it's getting thrown from your ride or getting thrown from The Real World: San Francisco during episode 11, because Pedro thinks you're a d*ck. Keeping you ready, sartorially speaking, 708 Cycling
Inspired by the experiences of a 20-year veteran bike messenger on the mean streets of the Gateway City, 708 aims to create eco-conscious, road-worthy gear equally capable of withstanding a mean spill on your morning commute and a mean spill of your morning coffee, which you take black, of course, because you're craaazzzy.
Highlights from the line include a trio of cycling lids: the classic camo (heavy canvas), black camo (light twill), and denim grey (sheep's wool), and bags like the Goliath, a mean-looking oversized, everything-proof messenger with two oversized front pockets and a kangaroo pouch made from hemp-infused rubber, the birth control of choice at Bonnaroo.
They're also keeping you clothed with the Alley Cat, a faded black/slate fitted jersey made from a mix of hemp and organic cotton, the Windstop Mechanic, a heather grey zip-up jacket made from 99 percent recycled polyester, and a sleek black hemp/twill weave with baby cargo pockets, double stitching, and a reinforced buttox called the Urban Short, which sounds pretty street now, but grew up in Winnetka.
If you just want to buy a t-shirt, they've got a simple black on chalk grey logo tee and another repping a messenger service called the "Steel Pony", also Puck's new two word business plan now that he's getting those sweet reality tv bucks.