All Your Girlfriend Needs to Wear This Fine Holiday Season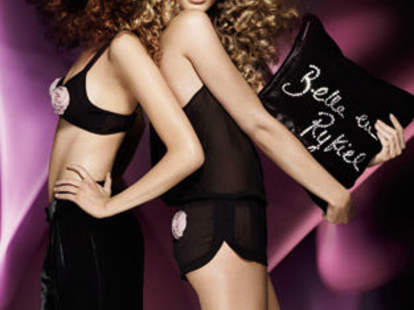 Lingerie is the ultimate gift, whether you're hoping to take things to a more intimate level with your girlfriend, or a more intimate level with yourself. This holiday season get your provocative under-things from the Sonia Rykiel for H&M collection. A first for H&M, this holiday capsule collection was designed by Parisian icon Sonia Rykiel, a fashion scene fixture since 1968, when young people worldwide were fighting to break the shackles of the older generations' onesies. The line incorporates fluid velvet, silk and satin, as well as the multi-stripes and rhinestones that serve as Rykiel's signature touches (if you already knew this, best keep it to yourself). Ogle the something-for-every-girlfriend styles below:
Corset: A burlesque style sultry even on women who don't deliver bawdy show-tunes while dangling from a trapeze. Â  Â  Â
Silk Slip: A casually seductive look that says, "Ooh, I'm just chilling on the couch, if you want to come not-watch that show with the really attractive aliens and that dude from Party of Five. No, not the one from Lost. Dude, I'm trying to casually seduce you."
Kimono: If you ever read Memoirs of a Geisha...Just kidding, but seriously, kimonos are super-hot. Â  Â  Â  Â
Conveniently, the collection is available at 1500 H&Ms, as well as all Rykiel boutiques worldwide. To preview the looks, just check out HM.com/SoniaRykiel, and try to keep a leash on your provocative under-thing.