The Elysian's European bistro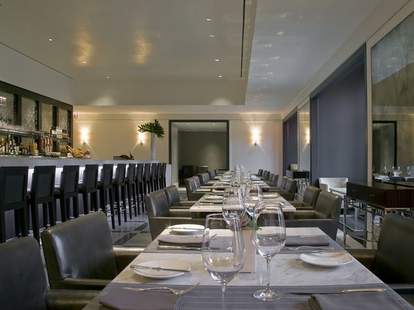 Spoiling your girlfriend can lead to great things, like a home-cooked meal, or a sexual favor, or actually having a girlfriend. Or having a European-style bistro named after you, like Balsan.
Named for the longtime financier/lover of Coco Chanel (whose designs inspired much of the soon-to-open Elysian Hotel), Balsan is a Euro-style bistro decked out in a black/white/gray color palette, hand-etched glass, and floor-to-ceiling windows looking out onto a Euro-style courtyard, meaning it has different attitudes towards pruning its bushes. Smaller options include an expansive raw bar and a robust selection of cheese/charcuterie, a soft boiled hen egg with wild mushrooms and chicken liver, and a pear/mustard/Parmesan kicked veal heart, which is about to be broken, with your fork, you cad. Heartier appetites'll go for the duck breast with parsnip and pickled quince, pork sausage and honey-glazed tenderloin with grits, spigarello, and mustard seeds, and a wood-fired chicken for two with Brussel sprouts, pickled onions, pancetta, and sunchokes, which might have happened if Latrell Sprewell played in Phoenix.
Meals can be washed down with a glass from the hotel's 7,000-plus bottle wine collection and capped with classic desserts like apple galette with vanilla ice cream or a whip-topped lemon tart, who'd stop fooling around and commit to you, if only you'd throw down the cash to get her cat jewelry startup going.