Setting up shop in the former Sonotheque space, this outpost of the NY-based fleet of wild, multicolored watering holes mashes up an old timey beauty salon and a dance-heavy dive bar, and serves up specialty hair-themed cocktails like the Perm (Sailor Jerry rum, fresh lime, cranberry, orange) and the Platinum Blonde (Three Olives Vodka, Malibu, pineapple). Hit this Thursday's Vampire Weekend afterparty to soak it all in, plus vibe to the spinning prowess of bassist Chris Baio, who unlike his brother is only in charge of your Charleston.
Previous Venue
Next Venue
Venue Description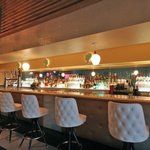 1. Beauty Bar
1444 W Chicago Ave, Chicago, IL 60642
An outpost of the NY-based chain of wild, multicolored nightclubs, Beauty Bar is designed to resemble an old-school salon from the '60s, mixed with a dance-heavy dive bar. Among blow-drying and nail-painting stations, the bartenders even sling specialty hair-themed cocktails, like Bed Head (Sauza Blue Silver tequila shaken with pineapple and lime juices) and The Blowout (Jim Beam rye or bourbon whiskey, dekuyper ginger, liqueur, lemon).