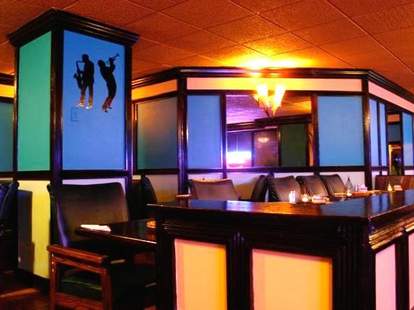 A reality show appearance can pave the way for many things, like more reality show appearances, or having sex with the chick from Rocky IV. A post-reality venture that actually benefits you, The Big Easy.
Brought to you by native Chicagoan Jennifer Gavin, who navigated her way to the final four of Hell's Kitchen, The Big Easy feels like a cozy, transplanted New Orleans jazz club, with brightly colored walls offset by dark wood trim and silhouettes of horn-blowing musicians--don't judge, they're just trying to make a living. The menu's appropriately heavy on Cajun/Creole specialties, from starters like crunchy fried okra and gumbo to catfish po' boys, crawfish etouffee, and shrimp piled on hominy cheese grits slathered with apple-bacon gravy, cause otherwise it's like "how come that mayonnaise and those chocolates and popcorn balls get to taste like bacon, and I don't?". They're also dipping into the barbecue waters with thick-cut hickory smoked spare and baby back ribs, brisket sandwiches, and smoked chickens flanked by requisite Southern sides like collard greens, red beans and rice, and fresh cornbread dressing, which you shouldn't be looking at, Pervy McPervert.
For the sweets inclined they'll have classic beignets and a French Quarter Pecan Pie laced with chocolate and Kahlua, while the booze-inclined can snag fruit and rum-laced Hurricanes that might finally give you the stones to hit on the enormous Russian chick, even though her husband killed Apollo Creed with his bare hands.