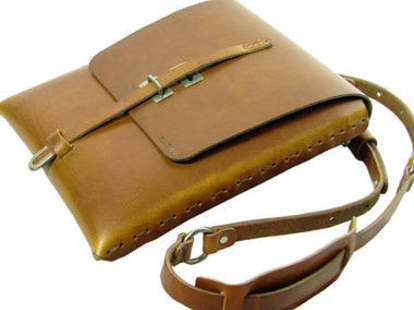 There are two things the Amish don't trust: buttons, and Danny Glover, especially when he gets all dangerously close to Lukas Hass. Oh, and also batteries. But that doesn't mean you can't trust them with sick leather goods, via Billykirk
From a couple brothers who snagged inspiration from such diverse sources as equestrian gear and vintage industrial duds, BK peacefully commissions Amish leather workers to handle their rakishly handsome animal hide steez from bags to belts, although no leather faces, cause Amish people hate Andrew Bryniarski, star of Leatherface.
Baggage comes in the form of an all-purpose shoulder satchel modeled after a WWII Belgian map case and outfitted with white bronze-cast hardware; the more compact shoulder pouch made with dull silver nickel; and the large carryall made with two interior pockets and a Swiss Riri zipper closure, which you desperately needed even though it was over between you and Swiss Riri long ago.
They've also got hand-stitched wallet action like a tri-fold with an interior biz card and change holder, a slim passport keeper, a snappable card case with slots inside and out, plus a '70s-style zippable canvas wallet with leather interior that's all natural, because that's just how they rolled back then
Because your waist is all "hey, what about me?!" they're doing four types of belts including a mechanic-style number with a hidden buckle, a nickel silver buckled "Skinny Belt", and a claw buckle model inspired by an old horse harness, which the Amish wouldn't trust Danny Glover with, since he probably wouldn't even know the proper harnessing techniques. Stupid, silly Danny Glover.