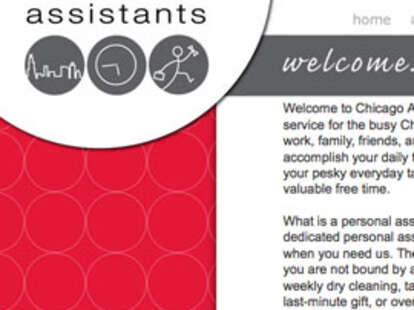 The New Year's almost a month in, but you still haven't started on your resolution to get your life together, and more importantly, your resolution to get someone else to do it for you. Call in the cavalry, with Chicago Anytime Assistants.
Hatched by a 'Cago woman whose advertising exec career's 18-hour work days left her no time to accomplish even the most fundamental tasks, CAA's a pay-as-you-go personal concierge service staffed by a network of variously skilled people all learned in the trade of Getting Sh*t Done. As long as it's ethical and legal, they're up for it, whether it's dealing with annoyances like dry cleaning, groceries, auto-servicing, overseeing household repairs, walking/feeding mutts, or even getting your scrapbook together -- so even as Mom gasps in horror at "Losing Virginity in Parents' Bed", she'll be delighted by the presentation. Next-level jobs include typing business memos & letters, organizing travel itineraries, scoring concert & sports tickets, procuring hard-to-find gifts/flowers/whatever, scouring the market for new digs, and even house-sitting your current domicile (prepare to gasp in horror at "Losing Virginity in Client's Bed!").
The price: $35/hr, which is totally affordable, but who the hell's going to make that phone call to get you started?