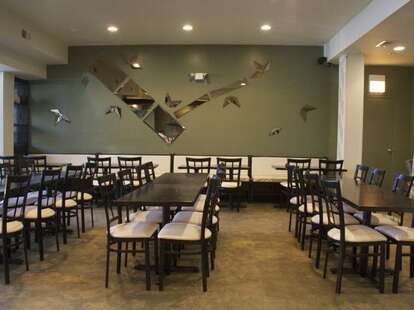 After workin' for the man every night and day, some people feel like just rollin' on the river, probably because it's relaxing, and also, doing ecstasy on a raft will blow your mind. Of course others decide to open a resto, like Chikurin.
From a dude who spent 15 years slaving away at numerous Chicagoland restos, his first solo effort, Chikurin (Japanese for bamboo), is an 80-seat subterranean lounge, lined with black & white banquettes and decked with elaborate cut glass artwork that recalls the restaurant's name, instead of acting kinda shady, and not calling it baby. The menu draws from all over Asia, with starters including Korean-style kimchee pancakes, and Thai spring rolls w/ housemade peanut sauce, plus maki like the Volcano (Alaskan king crab, spicy mayo, red tobiko, and tempura crunch wrapped around tuna) and the spicy salmon/cucumber/ jalapeno/cilantro/avocado Spicy Wind, a problem that's at least better to have than carping your pants. Entrees rep an array of Chinese & Thai rice & noodle faves (Moo Shu Chicken, spicy basil curry...), plus additional chef specialties like walnut-topped breaded coconut shrimp in a sweetened cream sauce and ginger/scallion-kicked stir fried lobster that apparently failed to use its escape claws.
Their liquor license's expected shortly, at which point they'll rock a full bar, a handful of house sakes, and an Asian-heavy selection of 10 beers -- run through the whole list, and it won't be hard to stop worryin' bout the way things might have been.