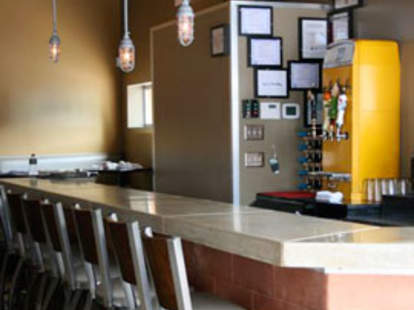 If transforming something didn't guarantee success, Paramount wouldn't have wasted Michael Bay's precious time on another movie about it, especially when he could be filming Bad Boys III, Con Air II, or even one good film. Transforming itself for the sake of your nightlife, Clutch.
Opening tonight from a Matilda owner in a converted space most recently occupied by a gas station/auto shop, Clutch has an industrial feel that belies its former life, with vapor lights attached to BX cable illuminating a bar with taps built into a repurposed antique gas pump, that now solely fuels bad decisions. The menu's an eclectic blend of tricked-out fast food staples like a deep fried hot dog with homemade mustard sauce, secret-recipe hot wings, and unique burger selections like the Clutcheasy, beef that's steamed under a hubcap with a half-pound mountain of cheddar cheese, or, as it's known in Wisconsin, a burger. The booze selection contains a quartet of drafts (PBR, Point, Bell's Oberon, Beamish) along with 15 bottles/cans, a streamlined no-nonsense liquor selection (don't come in pleading for a raspberry mojito) and a small but fine rotating wine selection (five reds, three whites), so consult your bartender as to whether it's the Cabernet or the Riesling that pairs best with an '09 Vienna Beef.
Because the repetitive work of eating and drinking can lead you needing air, they've converted the triangular plot of land in front into a 42-seat patio enclosed with rusted metal -- also the primary set decoration for Bay's upcoming soon-to-be classic Pearl Harbor II.