Tats and threads team up in the South Loop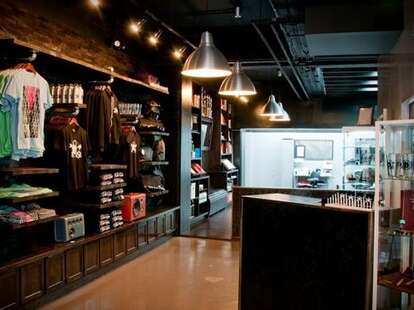 Deciding on the perfect tattoo can be an arduous and painful process, though not nearly as painful as immediately realizing you need some duds to hide "Whatcha gonna do when the Hulkster runs wild on you?". Covering you on both counts, Code of Conduct.
From a trio of ink-obsessed music industry vets, Code's a hybrid tattoo studio/gear boutique with a touch of art gallery thrown in for good measure, all contributing to a vibe best described as a barber shop for rock stars, though you know Peter Cetera is all salon. With a stable of tat artists boasting clients ranging from ex-Bull Randy Brown to hip hop's The Cool Kids, those pondering some body art will find a couch-laden "living room" area outfitted with entertainment (board games, X-Box) plus a carefully curated library of picture-stocked books to spark ideas, and, in case those don't do it, a grip of iPads for cruising net-based inspiration (dude, when you flex your bicep, the Numa Numa kid actually jiggles). For cloaking your shameful mistake, the boutique half rocks tees & hoodies slapped with Code's logo (two skeleton keys crossed behind a lock), plus science-y streetwear from local outfit Iridium, oversized thick-rimmed shades from Von Zipper, and eye-catching watches from Nixon, which thankfully won't make you look like a Dick.
Adding to the action, each month will feature a new artist decking the walls with exclusive, one-of-a-kind pieces, starting off with a graffiti artist whose penchant for pop art fruits and veggies earned him the nickname The Grocer, though nothing's grosser than your Hulking mistake.