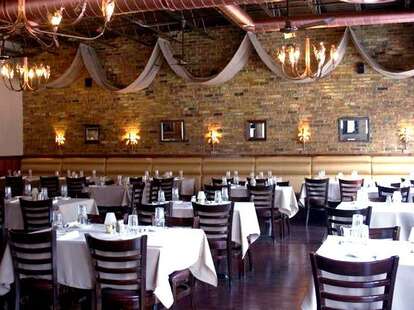 It's all about staying classy but being just a touch less formal, like opting for a long tie instead of a bow, or a tuxedo t-shirt instead of your trusty tuxedo tank. Hitting that sweet spot, Corner41.
Just soft-opened after a string of delays, Corner41 is a cozy but classy bar and grill that's settled into the old Cy's Steak and Chop House, dialing down the aforementioned concept with a more affordable menu while retaining a dignified air with copper-colored fixtures, exposed brick, and dark wood trim (though real gentlemen prefer blonde wood trim). Sandwich highlights include a lobster burger on brioche with lemon aioli, grilled ham/turkey on sourdough with Swiss and fried angel hair onions, and a provolone-topped ostrich burger that could reach land speeds of up to 45mph, until it was ground to bits and put on that bun. Breaking free of the bread are entrees like a jalapeno-spiced half chicken, seared sesame tuna with wasabi oil, and caramelized apple/asparagus-kicked lollipop pork chops, admired by both Lil Wayne groupies, and Shirley Temple's most popular song of the '30s (like you didn't know).
Booze-wise there's a full bar plus six beers on tap, including neighbor brewery Half Acre's Over Ale; fans of the old spot will be comforted to see that the Ribfest champion ribs are still available, although things may get messy, so consider formal wear that doesn't constrain your arms.