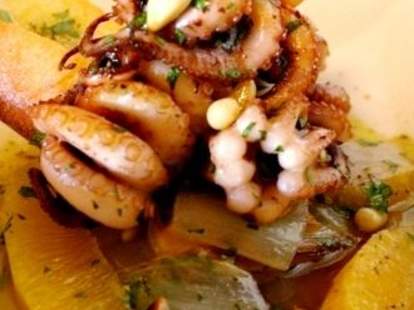 You've always considered yourself a connoisseur of fine bar comestibles, like, when the waitress says "Ranch or Blue Cheese" you're all "Bleu Cheese" like there was ever even a QUESTION. Rewarding that fine palate, Cuna
Chef'd by the man who used to run the show at Sepia, Cuna's a spacious, 200-capacity, DJ booth'd contemporary drinking and dining den decked out with sleek grey walls, black tin ceilings and circular stainless steel light fixtures, with a separate 60-seat lounge area whose entrance is marked off with red drapes, which disappointingly do not match the carpet.
The global, shared plates menu kicks off with smaller bites like soy braised pork belly mini sammies with cabbage and sriracha aioli, grilled baby octopus (endive, orange, pine nuts), and butternut squash risotto with applewood bacon, walnuts, and sage, whose advice to you is invest in blue chips with small PE ratios, and split the risotto to take home.
More substantial fare includes the Berkshire pork loin kebabs with apples and arugula, a bison burger with Gorgonzola, and a bacon-collard green, cranberry/pine nut sauce accompanied skate wing that played at Lake Forest, and still wears the jacket even though he's like 27 and should just get over it already
Booze-wise they have a 17-strong globally sourced wine list, six beers on tap (Half Acre Over Ale, Affligem), and 11 specialty cocktails like the "Belmont Whistle", which comes with Hendrick's Gin, Tito's Vodka and cucumber-infused simple syrup -- get a Mind Eraser on the side, if you care about protecting your classy rep.