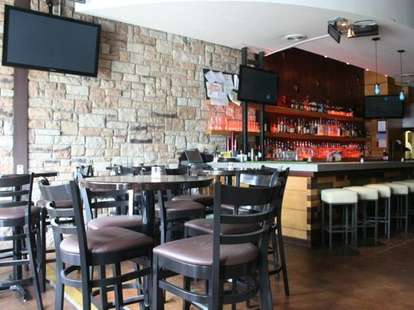 Curses are the worst -- King Tut's killed those who opened his tomb, and the Irish's killed their hopes and those of anyone who opened their pants. Building something from a more local affliction, The Curse.
Opening up in the former Moxie space, TC's playfully giving the nod to infamous sports curses in the form of an upscale sports bar (flagstone walls, loads of flatscreens, Cubbies-blue lights), dotting its menu with pages comfortingly detailing afflictions brought upon other teams past and present, from the Curse of the Bambino to the Hanshin Tigers' Curse of the Colonel (though if they think losing a few baseball games is the worst KFC can do, they're still waiting to get their blood work back). Menu-wise the main attraction's a strong selection of sausages, including The Billy Goat (a blended goat & beef link served brat-style); The Larry Bird, a duck sausage topped with braised asparagus and cranberry-wine reduction; and a caraway-/cardamom-spiced pork sausage topped with swiss, 'shrooms, and garlic aioli called the Chuck Norris, likely the only Texas Ranger Cubs fans will have to worry about this year. Other bites include salt-studded ballpark pretzels w/ housemade bier cheese, chile-spiced shrimp empanadas kicked with salsa verde, and zucchini-thyme fritters served with roasted red peppers and horseradish cream known as "Pan Fried Fast Balls" which, unlike Carlos Zambrano's, aren't battered all day.
In the hooch department they're still tinkering with a specialty cocktail list, but in the mean time snag any of 30-plus beers from Rogue Dead Guy to Dogfish 60 Minute IPA, though if it takes you that long to consume it, you clearly don't suffer from the real Irish curse.