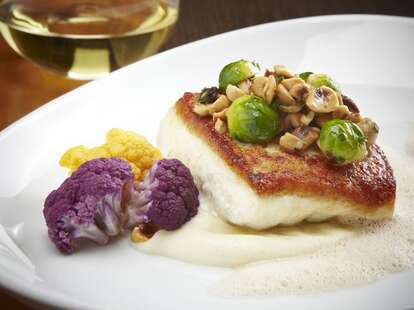 The word "epic" gets applied to just about anything these days, like the Lord of the Rings trilogy, or that time your beer pong squad hit two balls in the same cup whilst Tucker was drinking from it, and you were all, "suck it Tucker", and he's like "I want a rematch, sucktards" and, oh man, that was awesome. Actually living up to its bold naming choice, Epic.
A 14,000 sq ft, 190-seat behemoth that'll only further justify its name with a prime rooftop set to open come springtime, Epic's a multifaceted, multi-level, colorfully industrial-chic temple of food and drink replete with towering 21-foot ceilings on the first floor and tables made from the wooden beams taken out during construction, but ... HOLY HELL WHAT'S HOLDING UP THE BUILDING?! The classic-meets-contemporary menu kicks off with a raw bar (jumbo prawns, stone crab, oysters), salt roasted bone marrow (served with braised oxtail, porcinis, and country bread), and wild boar barbajuan, a fried ravioli filled with foie gras terrine and the shoulder of a boar, which left it with nothing to cry on when it was killed. Entree-wise they've got a full compliment of steaks including a seven pepper crusted hanger or a 22oz smoked rib eye, as well less conventional fare like a salt crusted black bass for two and a caramelized cauliflower/hazelnut emulsion-kicked halibut that's been poached in olive oil, despite it being a significantly less fruitful place to illegally catch halibut than the sea.
Patrons can wash the goodness down with selections from a 230-bottle wine list as well as seasonally rotating artisanal beers and signature cocktails, and further please their palates with desserts like frozen chartreuse souffle with candied kumquat and pistachio three ways, which Tucker is totally into, because that guy rocks!