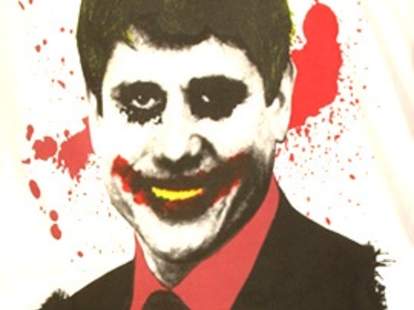 How to go about repping the Chi is a complicated decision: go too obvious, and you shout "Tourist", but go too subtle, and you still shouts "Tourist", but now strictly because of the fanny pack. Slinging the right mix to rep the Windy, The Fineprint
Started by a trio of high school buddies tired of seeing Chicagoans rocking streetwear imported from NYC and other unsavory locations, TF has created a line of silkscreened tees that conspicuously say "Chicago" with a playfully clever perspective and an artful aesthetic, like that "Cardinal Fans Take It In The Pujols" shirt you snagged outside Wrigley, except the exact opposite.
Local politicians figure prominently in the selections, including "Blajokevich: Governor of Gotham" featuring a paint-splattered G-Rod doing his best Heath Ledger, the more old school "Wise Thoughts" with a red, white, and blue Lincoln thought-bubbling a typewriter, and "Pass The Barock", featuring the 44th president decked out in an appropriately numbered Bulls jersey and palming a ball, a scarily plausible scenario should Derrick Rose get hurt.
More geographical steez is available in Capital of ILL, with a Chi flag-colored state outline and a familiar red star over a certain city (Hint: Not Springfield), another Chi-flag mashup called "Star Spangled" that transforms the blue stripes into silhouettes of the skyline, and "Chi-Scraper", which depicts a couple of familiar towers behind a chain link backstop rocking a "16in Softball Only" sign, because gloves are for women, children, and New Englanders
Subtler but nonetheless Chi-themed goodness is present in a rotund music spewing sax player called "Blues", cause a Blues Brothers shirt would mean you're totally a -- hey is that a Pizzeria Uno?!