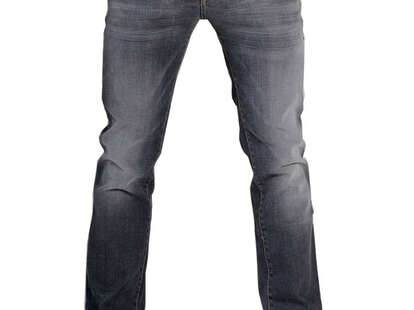 Sure you scored four touchdowns for Polk High in the City Championship game, but after checking your current fat levels in the mirror even you think that story's a lie. For jeans capable of slimming your '08 physique, grab Five Four.
While almost all slim-fit denim stops at size 36, 5/4 takes a more realistic, less European approach with their new "Big Slim" cut, in sizes up to a healthy, beautiful 40. Made from high-quality stretch denim (w/ 2% spandex!), Slim's cut is roomy from the waist through the thighs, then tastefully tapers as you move down through the ankles, like soap running down a plus-size Dove model. The jeans come in two styles: the traditional five-pocketed "Dres Michael" in gray, and the dark blue, back-flap-button pocketed "H Michael" -- washes inspired by 5/4's in-house merchandiser, who's very honored to now have roomy pants named after him
Because fat doesn't stop at the waist, 5/4's also cranking out upper body gear in sizes up to XXXL, like the "Barad" hooded zip-up jacket w/ four front pockets, and a long-sleeved brown buttondown w/ gray pinstripes called the "Riser" -- which, when worn with slim-cut fat-guy jeans, should disguise exactly how far you've fallen.