Sometimes you have to relocate to play by your own rules, like when the Pilgrims set out for America so they could freely worship their God, or when Gary Glitter moved to Vietnam to freely worship 11-year-olds. Making its own rules in a new home, Floriole Cafe and Bakery. A longtime fixture at the strictly-local Green City Market, Flo's opened up a two-floor, sky-lit, granite table'd temple to the baked arts where they're free to explore GCM-verboten goodies from chocolate to citrus, a forbidden fruit that in their hands will ultimately accomplish the familiar goal of body shame. Cranking out a steady stream of sweets (still locally sourced whenever possible), there're rotating macaroon flavors like pistachio, coffee, and passion fruit, blueberry-laden bread pudding, caramel pots de créme, and chocolate-coconut meringue "boulders", which will recruit you to eat them even if it means getting some strippers. For those on the savory tip, there'll be daily quiches (one meat, one veggie), flaky galettes filled with the likes of mushrooms/caramelized onions or asparagus/goat cheese, and loaves of sandwich-friendly bread from brioche, to honey whole wheat, to a yeasted corn bread, which may or may not just be trying to get out of having sex with you. In about a month's time they plan to beef up with a full sandwich/salad menu, and a little later they're hoping to unveil beer, wine, and Champ, which with it's sweet bubbles is perfect for plying young, supple...DADADADA HEYYYYY!
Recommended Video
The Chillest Museum in LA Is the Museum of Ice Cream
Previous Venue
Next Venue
Venue Description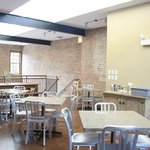 1. Floriole Cafe & Bakery
1220 W Webster, Chicago, IL 60614
Floriole Café & Bakery's beginnings were confined to a 10-by-10 tent at Green City Market, where the menu was limited to pastry alone. Today, from its two-story Lincoln Park-based brick and mortar, Floriole continues to sell its French pastries, en masse, but with an expanded inventory. Now, you can enjoy your pastry with coffee, quiche, breads, sandwiches, salads, and more. The levain, canelé, and other French delicacies may rival those actually made in France -- the baker cut her teeth at San Francisco's acclaimed Tartine Bakery, after all -- and the quiche is served in shells that are like golden-brown butter sculptures, and are not to be missed.