A Brazilian party in Little Italy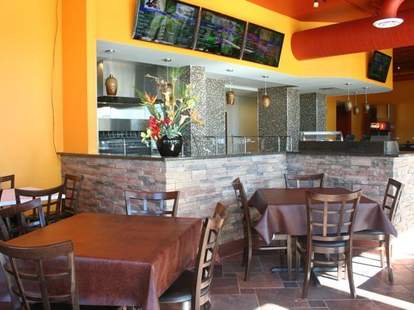 From weekends in Rio to weeks of Carnival, Brazil is renowned for its ability to throw a party, a quality that apparently makes for a more compelling Olympics bid than making, like, super thick pizza. Tauntingly bringing Brazilian party food to Chi, Sabor Express.
From the owners of a more conventional Brazilian steakhouse in the 'burbs, SE's a bright corner restaurant with floor-to-ceiling windows, vibrant yellow walls, and earth-toned mosaic tiles that's serving up traditional 'zilian festival fare intended to be eaten with your hands, which should keep them busy enough they won't end up doing the Devil Dog's work. Gut-busting highlights include fried egg-topped steak sandwiches, skewers of everything from Parm-dusted pork to garlic steak, and a variety of deep fried pockets (ham & smoked mozz, chicken/corn/garlic...) called pasteis, which unlike pasties aren't stuffed with melons. Additional snackage comes as kibes, a blend of seasoned ground beef & bulgar wheat wrapped around fillings like hard boiled egg and...more ground beef; teardrop-shaped fried shredded chicken dumplings called coxinha; and even rotisserie-grilled pineapples and fried bananas, which in their current state find themselves extra appealing.
The decadence is finished off with flan and corn pudding, and a BYOB policy'll keep boozing cheap, so even without the Olympics you'll get your fill of shotputting.