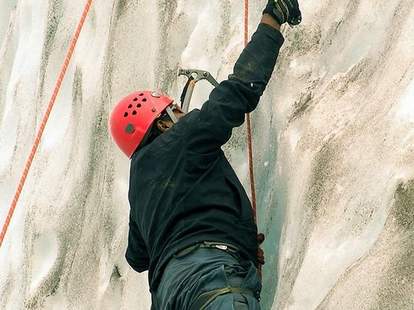 You've always considered yourself someone who effortlessly steps outside his comfort zone, as evidenced by last Friday, when you ate TWO boxes of pizza rolls without even checking to see if they were pepperoni, cause, man you don't even GIVE a sh*t. Bringing you experiences not even pizza rolls can deliver, FunSherpa
Started in Chi by a group of folks with a zest for squeezing every drop out of the lemon wedge that's life, FS aims to be your one-stop shop for all manner of new experiences and excursions that may have been cluttering up your bucket list -- and if "purchase something online" was on it, that'll be one down right there!
Their wide range of packages offer activities across assorted categories (Airborne, Gourmet, Water), meaning there's stuff for those who crave action (powerchuting, ice climbing, kiteboarding) and stuff that's better suited to feet-on-the-ground types like sushi making lessons, floatation tank relaxation, or having your own portrait commissioned, as stipulated in your lease, when you began renting that Haunted Mansion.
Once you have an activity in mind, check the details (they'll tip you off on appropriate attire and other pertinent info) and book the date if you're indulging on your own behalf, or leave it open ended if you'd like to give the experience as a gift, though hopefully it goes over better than the back rub coupons you so generously bestowed upon your ex once she started talking Pilates.
If you're looking to give a gift but know absolutely nothing about your stepbrother, they also do general gift certificates redeemable for any of their offerings, which doesn't include blind pizza roll eating...yet.