Proving a diner without Steve Guttenberg is guaranteed to be offal, the Maude's/Gilt Bar folks are incorporating innards 'n more into the upscale luncheonette fare at Au Cheval, an old gyros joint reborn as a cozy (e.g., tufted banquettes, century-old brick...), 50-seat greasy spoon whose zinc-topped bar envelops its open kitchen.

Things start off familiar enough in the form of griddled burgers w/ housemade pickles, sides of peppered bacon, and crispy potato hash, but decadence will quickly wash over you in an awesome wave: "single" burgers sport two patties (and "doubles" three), the bacon's cut as thick as a steak, and the spuds're smothered in gravy made from duck heart, something yours sadly won't be able to do to avoid oncoming attacks. The gluttony doesn't stop there, with other outrageous highlights including chopped chicken liver w/ toast & salted butter (a nod to the deli classic), nearly 3lb pork porterhouses w/ foie gras and roasted apple, and smashed-spuds-&-garlic-gravy-sided housemade brats, which thankfully are never spoiled.

And because gluttony pairs well with booze-induced sloth, there's an era-spanning 'tail list (e.g., the 1890s Horse's Neck, made w/ rye, lemon, ginger beer, and Angostura bitters), and 36 crafty drafts are divvied up into offerings that're Light, Full, Specialty, and Rich, probably what the Gutt had visions of being when he heard there were plans for a new diner.
Previous Venue
Next Venue
Venue Description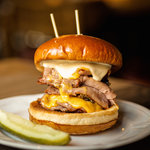 1. Au Cheval
800 W Randolph, Chicago, IL 60607 (West Loop)
This upscale West Loop restaurant is known for its European flair and sophisticated American diner-style eats. Au Cheval usually has a wait out the door at peak dinner hours because it's home to iconic signature items like the fried house-made bologna sandwich and the so-called single burger, which actually comes with two thin patties and is topped with American cheese, house Dijonnaise, pickles, and if you know what's good for you, the optional bacon and fried egg add-ons. The brasserie-like space includes an open kitchen and a bar where local, domestic, and international beers are all on tap.