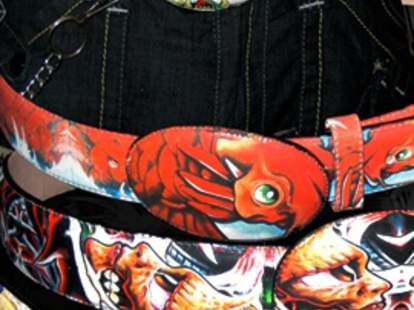 You always thought it would be sweet to get a tattoo, until you realized it would entail ... actually getting a tattoo. Carry around that tatted skin sans the shame of foreverness, with Inkorporated Skin.
The brainchild of a guy who splits time between the Windy and Motor cities, IS brings together work from a far flung group of tattoo artists and applies it to leather in various formats, like your assorted copies of Howard The Duck. Belts (paired with similarly steezed leather buckles) include the "Dragon's Layer", with bits and pieces of fierce dragonness interspersed with Chinese characters, the bright orange "Koi" which's decked out with everyone's favorite member of the carp family, and "Crowne of Thornes", which shows several detailed images of Jesus and his most famous headwear (you know... for church). Designs also make their way onto bifold wallets, with other imagery including an alluring Japanese geisha, a ferocious-looking tiger, and red and gold hybrid of a hawk and a horse, just like the ones you used to see on your trips to the zoo. On shrooms.
Because one can never have too many leather goods, they're adding variety with options like moccasins, laptop cases, and even wrist cuffs, which you always thought you'd look sweet in until you realized it would entail getting your ass kicked by noble do-gooders.