Sweet nighttime photos for your pad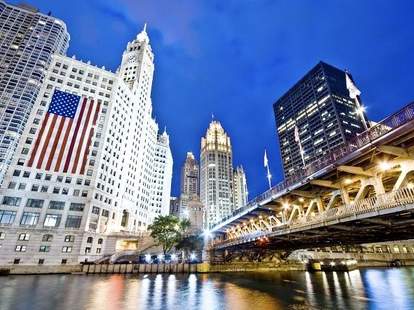 Patti Smith contends that the night belongs to lovers, but she's obviously never ridden the Red line at 2am, when it belongs to that guy who just stole your DROID. Capturing a better side of Chi at night, Jolyn Hecht.
Employing a variety of wide angle lenses and the vibrant colors and contrast provided by the city lights and night sky, JH's work (available in various sizes and frames) focuses exclusively on the splendor of the Windy City after the sun goes down, which you so frequently discuss with all those fun loving singles on Livelinks. She makes robust use of the city's architecture: the skyline reflected in the Bean at dusk, the Wrigley building reflecting onto the Chicago river, and the strikingly illuminated Marina Towers, or as you know them, the Wilco Honeycomb Center. She also makes use of some of the city's iconic neon signage, from the jovial wieners of Superdawg, and the tragically shut down Kiddieland to the Green Mill and the Biograph, which is just like the Biosphere, assuming you took away everything about the Biosphere and added a silly old theatre.
Because Chicago's been blessed with two baseball squads, she also has some stunning shots of night games at both The Cell and Wrigley Field, where the night belongs to Old Style-tinged vomit, tear-stained Kosher dogs, and -- for anyone who took the Red line the night before -- precious few DROIDS.