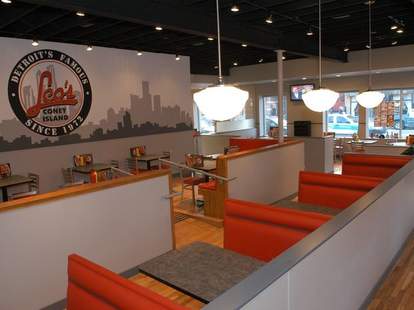 When Chicagoans have nowhere else to go, when all hope seems lost, when it feels as though the world has turned against them, they simply ask themselves WWDD: What Would Detroit Do. And when the answer isn't "horrifically collapse into a state of ruin" it's to eat chili-cheese dogs at Leo's Coney Island.
A Michigan fave that's setting up shop out-of-state for the first time, Leo's Chicago outpost is slinging the same Coney-style hot dogs and other diner fare amid red booths and a mural of the Chicago and Detroit skylines laying on top of one another ... and the Hancock looks pret-ty excited about it. The signature dogs come in various styles, like the Detroit's Famous (chili, onion, mustard, optional cheese), Chicago Style (for those who fear change), and a hybrid with spiced ground beef topped with all the fixins in a hot dog bun called a "Loose Hamburger", also the unfortunate nickname bestowed upon Dave Thomas' daughter Wendy. The menu goes way beyond dogs to cover most of your diner staples, including a smattering of Greek faves (gyros, kebabs, saganaki) that recall the company's Greek founders, whose influence is also evident in pitas like the Greek Taco and a burger that's topped with pepperocini, feta, and tzadziki, which Chad Ford thinks could be the next moussaka.
Like any good greasy spoon they're also slinging breakfast all day, from omelettes and chocolate chip pancakes to chilaquiles and The Midwest Slinger (hash browns doused in chili, two eggs and cheese), leading to the inevitable query: Where Would Detroit Spend Six Hours on an Elliptical?