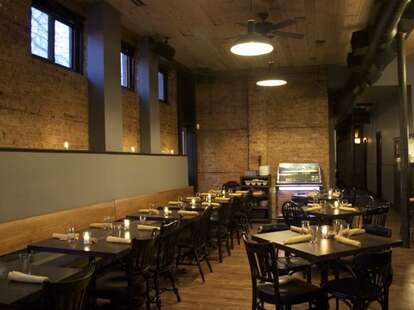 Putting a modern update on something traditional can really take things to a new level, like when your church upgraded its choir to a sweet rock band, or when your dad upgraded your mom to a sweet trophy wife and everyone stopped going to church. Giving you a modern take on a classic Chicago inn, Longman & Eagle.
Named for Logan Square's famed eagle statue and the artist who created it, L&E is split into two parts: the lower half's a classic-yet-modern pub with dark woodwork interspersed with a ceiling installation of mismatched wooden boards, while the upstairs contains the surprise (set to debut in a little over a month) of six furnished bedrooms for weary travelers, or dudes whose wives decided they prefer weary travelers. The menu's got a decided gastropub vibe, with bar snacks and shared plates like chickpea fries with harissa ketchup, kobe meatballs with creamy polenta and parsley pesto, and beef tongue hash topped with a black truffle vinaigrette and a duck egg served sunny-side up in an effort to accentuate the positive, despite being food. Entree action comes in the form of Bouillabaisse with a saffron-lobster broth, butter-roasted catfish (w/ collard greens, grits, okra, ham hock-truffle relish), and a braised short rib with potato-shiitake terrine, grilled green onions, and shallots that're stewed in red wine cause they think those onions are chive turkeys.
Because a traveler sometimes needs a drink, they'll have a frequently rotating selection of 15 craft beers on draft and a classically-inclined cocktail list heavily focused on whiskey and bourbon, much like dad was, until he met Deborah, and she dropped out of dental hygiene school.