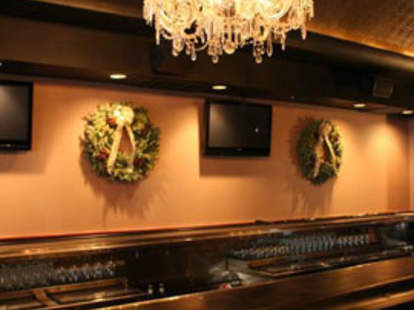 Executing low culture well is an art form -- for every The Ice Pirates (which was awesome), there are a dozen Spacehunter: Adventures in the Forbidden Zone (which starred a young Molly Ringwald, and was not awesome, despite being shot in 3D, which is awesome). For an exquisite dive bar, hit The Lucky Lady.
Co-owned by the guys behind luxe clubs Manor and RiNo, the Lady's a dark-wooded, rock-and-country drinking lodge sporting a hefty, U-shaped oak bar, 13 flatscreens, a red-walled pool room, and herds of antler chandeliers and deer heads. The booze situation's limited to the essentials: short-skirted, high-booted bartenders serving staple domestics (Iron City, High Life, etc) and microbrews (Half Acre Ale, Abita Amber, Great Lakes Eliot Ness); there are no specialty cocktails, and all hard liquor drinks come in 12oz glasses, which should reduce your trips to the bar, but won't. Grub consists solely of single or double cheeseburgers and baskets of seasoned waffle fries, plus gratis pretzels and Laffy Taffy (if you're going to tell those jokes, you'd better have seasoned fists).
Shortly after NYE, the Lady will unveil a wood-paneled basement lounge anchored by a jukebox crammed with Motown and Rat Pack classics -- execute your Sinatra singalongs poorly, and this'll become a forbidden zone not even Ringwald can get you back into.