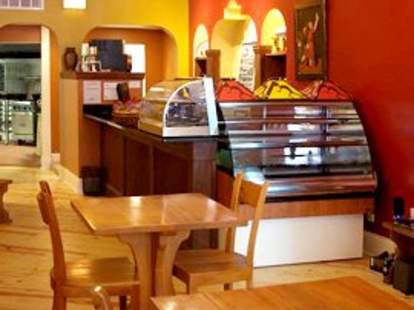 The knock on Colombia is that it's only known for cocaine and Pablo Escobar, but that's just patently false. They also have kidnappings! Oh, and delicious empanadas and coffee, at Macondo
Started by an owner of nearby Las Tablas eager to show off some of his native country's more positive cultural contributions, Macondo is a rustic coffeehouse with wooden columns and deep red walls adorned with Colombian-themed artwork to brighten things up, in the same foolproof manner you employ lava lamps. The empanadas can be had in 8-10 varieties, both savory (classic ground beef/rice/potato, shrimp with spinach and goat cheese, arroz con pollo) and sweet (plantains are combined with either guava and cheese or black beans), all made using a recipe passed down from the owner's grandmother, presumably along with a Susan B. Anthony dollar so you can "treat yourself to something special". They're also caffeinating the neighborhood with a fair trade organic blend crafted specially for the house and another six to eight varieties that will highlight the subtle differences between various coffee producing regions in Colombia, with bags also available for taking home, although no word yet on whether or not they're "fun".
As time goes on they plan on sponsoring music events (the owner's an Afro/Latin percussionist) and whipping up arepas, a cheesy cornbread mixture that can be served with similar fillings to empanadas, giving Colombia yet another calling card: the ability to make you patently fat.