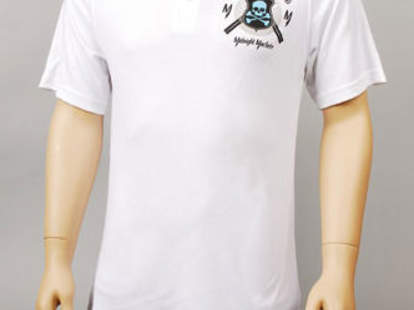 Rebelliousness in golf and tennis has had a rough go lately, from Andre Agassi's hair weave and troubles with meth to John Daly's troubles with whatever has the exact opposite effects on the body as meth. Taking up the mantle of country club badassery, Midnight Machete
Just launched this week by a Chi dude (and his lady friend) who was a state champion tennis player turned avid golfer who found himself frustrated with the undeniable lameness of most gear for said sports, MM is injecting some serious hard rock steez into Spaulding Smails' two favorite sports with which he consoled himself post getting nothing and liking it. Golf gear consists of moisture-wicking, flat-knit collared polos (avail in red/white/black) amped up with Skull & Crossbone action, like the "Midnight Fairway", with four clubs criss-crossed behind said skull and another polo called "Skull 'n Drivin'" with the blade-like "MM" logo on the sleeve and a skull lurking in back of a swinging club, just like you, but without a warm Stella and a refusal to shake it to "Rhythm is a Dancer". For the racket-wielding there's another pair of polos: the "Highway 29" (a reference to U of Georgia, where the owner played) which features a chest-patch hybrid skull-racket, and a set of rackets laid behind yet another skull (also available blown up on the back of a tee) called the "Aces at Midnight", which will mysteriously end up on top of your "Gary's at Midnight" tee after you Fold N Wash.
Because sports aren't everything, they're also doing a streetwear line that figures to grow appreciably in the coming months but already has a selection of logo and patched-out hoodies, longsleeve tees, and knit caps for those who may be balding but don't want to opt for a mullet-weave they'll embarrassingly acknowledge in a later autobiography.