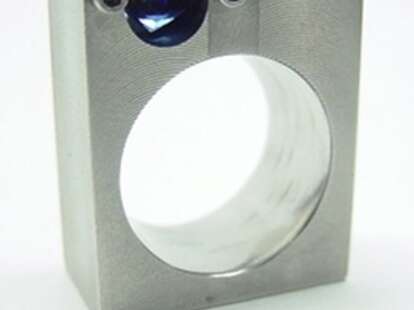 Men who work with steel are known for their fearless harnessing of deadly implements, their robustness despite never having eaten a vegetable and, of course, their love of decorative jewelry. Harnessing that manful love of accessories, No Form Design.
No Form's a one-man, East Rogers Park operation run by an 18-yr metal fabricator/machinist, who crafts one-of-a-kind, stylishly industrial man rings (almost all $100 or less) out of titanium and stainless steel using equipment so heavy, you are advised not to use it after drinking NyQuil. Standouts include:
Stellar: After a motorized carbide bit roughs up the exterior to make it evocative of a galaxy, tiny holes are drilled and differing-sized stainless steel balls're inserted to represent planets -- if you give Thrillist $100,000, you can totally see Xenu.
Mod Blue: Looking scarily like a cigar cutter, with a milled, fingerprint-like exterior texture, this burly square number's topped with an offset blue sapphire secured by two screws, ironic, considering sapphires generally secure the screwing.
Wood: Two bolts protrude from the side of this stainless, circular job, while on top's a flushly inserted piece of katalox -- a super-dense wood from Central America, but you can tell people it's "from space".
No Form's also fabricating metal cuffs, and'll do pretty much any kind of custom work you request -- perhaps something of ultralight aluminum, as your own vegetable avoidance has left you feeble, and fearful.