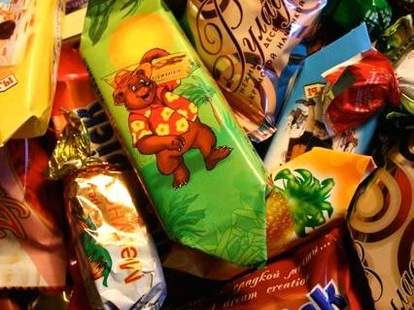 Eastern Europe has made several valued exports to the US, from smoking hot swimsuit models to well-priced vodka that makes the mail carrier lady look stunningly similar to one of those swimsuit models, and equally hard to get!! For even more sweet Eastern Euro action, get at Nuts 2 U
Just opened in Ukrainian Village, N2U is a simple storefront stocked with plastic tubs of Eastern European nuts and other snacktastic goodness you can buy by the pound, unlike your Pound Puppies, which you purchase strictly by cuteness and cuddle-bility. Largely occupying the central aisles are piles of brightly packaged, seldom seen stateside sweets with tough-to-decipher Cyrillic labeling, mostly containing some amalgamation of chocolate, marshmallow, nougat, wafers, and cream, or as you call it, your new best ever idea for a breakfast cereal. The foreign goodies also come packaged in huge, Russell Stover-shaming assortments boasting brightly covered labeling (thumbs up cartoon bears!) and flavor combos like chocolate/pineapple cream and chocolate/honeycomb, while the less adventurous will find more familiar wrapper-less bulk sweetness like malted milk balls, chocolate covered nut clusters, assorted gummi products, and Lemonheads, who really haven't put out anything memorable since "It's a Shame About Ray"
Because "experts" say a straight sugar diet is bad for you or something, there's also a huge selection of bulk dried fruits, nuts, and seeds, some of which you told the mail lady you wanted to give her, but she just called the police.