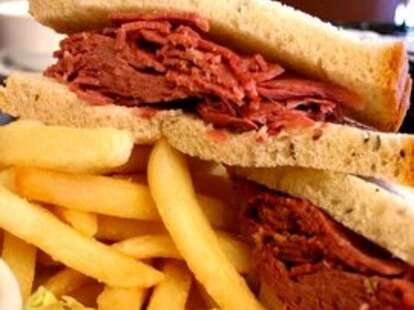 America loves a comeback, as evidenced by Mickey Rourke and LL Cool J, even if he isn't totally down with you calling it that. Making theirs, The Original Alps.
A longtime neighborhood fave all the way back when Chicago was invented in the '70s, Alps closed down, became a bank, and then dutifully un-became a bank this week, expanding into a newly furnished space that retains a throwback feel with brown padded booths and an old-fashioned counter that silently disapproves of your neck piercing. They're deep on breakfast faves like veggie/meat/cheese loaded egg skillets, blintzes, sweet and savory crepes (banana fudge hazelnut, mushroom and swiss, honey walnut) and baked three-egg omelets that include a ham/sausage/pepper/onion/cheese concoction called John's Mess, also the name of your old fraternity bro's hilarious intestinal issue. If you prefer lunch, they're heavy on hearty sandwiches like corned beef loaded on rye bread, triple-decker clubs, and hot turkey, meat loaf, or veal cutlet kicked with mashed potatoes and gravy and served open face, since serving them Ghost Face was too street for the lunch crowd.
For some particularly heartstopping fun, enter the Kentucky Derby (three eggs, three sausage patties, and two biscuits with sausage gravy), and when the doctor spots a blocked artery, just tell him it's been there for years.