Pledge Allegiance To The Tito's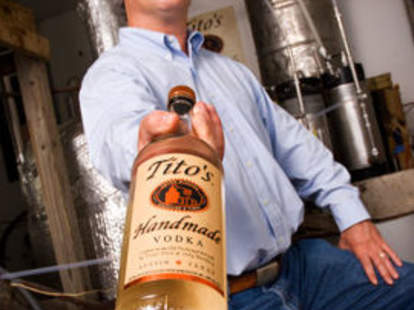 Honoring pledges can be a chore -- otherwise, why would PBS be serving you with notice that you owe them $250 for that Are You Being Served tote bag? For a promise you'll joyously keep, take the Tito's Handmade Vodka Official Taster's Pledge.
Now in Chicago at these retailers and bars, Texas's first-ever vodka is the handiwork of the fortuitously named Tito Beveridge: a geologist and geophysicist who went from running heli-portable dynamite seismic crews in South America, to running a drilling company, to founding a one-man distillery and taking Double Gold at the World Spirits Competition -- beating out 72 other vodkas, an upset that could only've been matched had the Jamaican bobsled team actually won.
As for The Pledge, it's simply an honest man's restatement of truths he most likely already holds self-evident. For instance: "Buying vodka for the bottle design is not being true to my hard-earned money", and "Smooth taste and waking up with a clear head in the morning are worthy things".
Simple, no? And if you're one of the first thousand to sign the Pledge (simply by clicking a button), Tito will send you a sturdy, handmade belt buckle depicting a pot still inside a Texas star. Just a thank you, both for honoring this Pledge, and another one: to always wear pants, even if it can be a chore. Find Tito's at these glorious establishments. Become one of the first 1,000 and get a sweet handcrafted belt buckle at TitosVodka.com