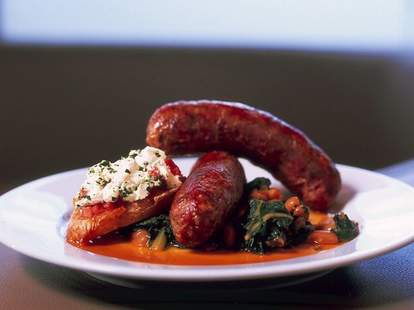 When you abandon your metier, you're usually destined to toil in relative obscurity for the rest of your days, like when Michael Jordan went to play baseball ... whatever happened to that guy anyway? And, more importantly, what's a metier? Making a comeback to Chicago, Prairie Fire.
The sibling of suburban standout Prairie Grass Cafe, PF is chef'd by a team that first gained notoriety at the Chi Ritz, finally making their return to the city in the old Powerhouse space, duly renovated with plush booths and a nod to prairie-style architecture -- and if lovin' it's wrong, you don't want to be Frank Lloyd Wright. Appetizer action gets rolling with the likes of crispy Mint Creek Farm lamb rolls with cucumber/mint/yogurt sauce, smoked salmon pizza with sour cream, and chicken liver pate with sliced apples and a port wine balsamic reduction that's in a crock, thus explaining its wild exaggerations. Mains include a spicy grilled goat sausage with winter leeks/Greek potatoes, brioche-crusted Wild Alaskan cod with root veggies, and golden brown pork shnitzel with potatoes, broccoli rapini and, a sauce of lemon and capers, but not Great Muppet ones, cause Charles Grodin creeps people out.
The menu's also dotted with some Prairie Grass faves, including their famous blue cheese-topped sirloin burger, while their cocktail list has thirst-quenching options like Corzo Reposado tequila with finger lime caviar and red salt from Hawaii, a perfect place to play golf after you foolishly throw it all away, even if you're forced to be a metier reader, just to make ends meet.