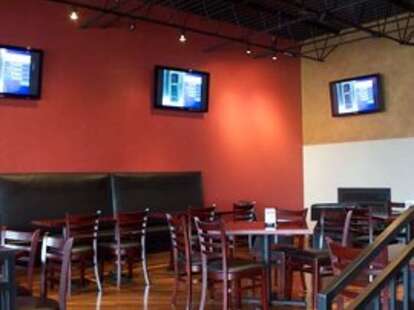 Everyone insists you can't be all things to all people, but did you ever stop to consider the fact that everyone is really, really lazy? Putting it all under one roof, Pure Cafe.
Open from the crack of dawn to the wee hours of the night and playing roles ranging from Euro-style morning coffee hangout to neighborhood sports pub, Pure features a tracklit red-and-black, flatscreened-out-bar area (playing both kinds of football) that is separated from a more laid-back coffee/reading nook by a fireplace that goes both ways, like many actresses who film their scenes in front of fireplaces. After spending mornings doling out Illy coffee, fruit smoothies, and breakfast sammies, they're rolling into a light-ish (there IS a health club next door) Mediterranean-influenced menu with starters like tuna tartar kicked with onion jam and julienned apples, parsley/lemon marinated octopus salad, and flatbreads like the "Pure" (prosciutto, mushroom, arugula) and a bruschetta-topped four-cheese number, or as it's called in Wisconsin, not even trying. The owners flash some of their Croatian heritage in the entrees, including summer streetfest fave cevapi, a grilled beef/pork/lamb sausage served with a spicy red pepper/eggplant relish called ajvar, the condiment that also accompanies marinated pork skewers named raznjici -- which translates loosely to "spelling bee elimination".
There's a full bar, and since sometimes a long evening of spiced and skewered meats leaves you wanting, they've also got a smattering of desserts (tiramisu, fruit/Nutella-filled crepes), because the owners stopped to consider the fact that Americans are really, really reluctant to stop eating.