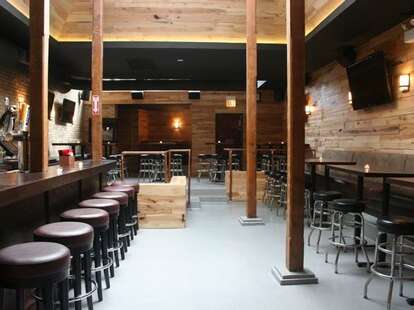 Deciding the best way to honor one's ancestors is complicated, unless no one in your family has gone to college, in which case... tribal bands! Honoring his forefathers bar-style, the dude behind Racine Plumbing.
Named for the pipe fixin' outfit the owner's great grandfather started in 1892 (which the family ran for more than 90 years), RP's a refined lodge-style sports pub with rustic beech/birch/maple lined walls and a massive skylight shining down on (appropriately) rails made from copper pipe -- hopefully the fact some dude laid it before you doesn't tarnish anything. Bust out bar bites include corned beef-stuffed reuben egg rolls with remoulade, seared ahi w/ sriracha aioli/pomegranate sauce/strawberry relish, and caramelized onion topped bison sliders, which unlike M Bison sliders were actually well-rated by Sagat's. Bread stuffs include the It's Always Sunny-inspired Grilled Charlie (seriously: peanut butter outside, chocolate inside, butter inside, cheese outside), a surf & turf burger crowned w/ crab & bearnaise, and a cheddar/ Gorganzola/ apple/ honey aioli topped Kobe burger, which totally overshadows the fish(er) sandwich.
A fifty-strong brew list includes nine drafts (Trumer Pils, Goose Island Summer), and those who want to double the carbs can get down on deep fried Oreos and Twinkies, cause you don't need to go to college to pledge the fat.