Shop The Look at JohnVarvatos.com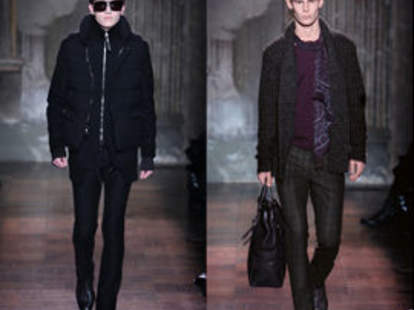 Living the rock and roll lifestyle means flogging yourself with excess until all that remains is a beautiful, apocalyptic wraith, and, ideally, three greatest hits albums, plus a tribute album on which B-sides you didn't even like are covered by obscure ska bands. Thankfully, shopping for the rock and roll lifestyle is easy: just visit the new John Varvatos e-store.
Uniting old-world craftsmanship and refined tailoring with innovative textiles and a rebellious sensibility, John Varvatos effortlessly evokes the days when rock stardom meant being totally in control of not-giving-a-crap, except when it came to Bangladesh, in which case giving a crap was crucial. Because hand-selecting a diverse yet functional wardrobe would not make you particularly hardcore, the e-store's done it for you, presenting runway vids and still shots of ready-to-roll Looks: outfits inspired by bands like The Who, Zeppelin, Alice Cooper, The Stooges, and the thunderous Motor City one-two of MC5 and Bob Seger -- a barroom troubadour of such unimpeachable integrity, he actually got away with wearing Crystal Gayle's hair.
So: if you've got the time and yearning, hit JohnVarvatos.com for clothing, footwear, bags, belts, watches, eyewear, fragrances and skincare, including anti-aging serum -- which'll forestall wraith-dom at least until you've recorded your Greatest Hit.