Big breakfast in Little Italy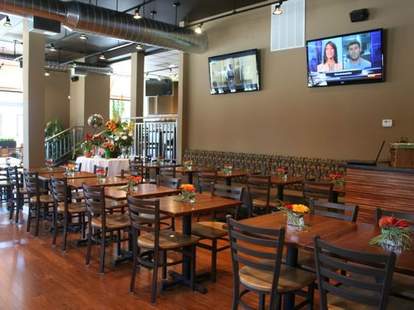 Diners are deeply woven into the fabric of America, providing folks across the country with a meeting place, nourishment, and a killer vehicle for Steve Gutenberg. For a fresh diner from a man steeped in their storied history, hit Stax Cafe.
From an owner who grew up around his family's resto biz, finally striking out with a solo effort, Stax is an 85-seat modern spin on the classic diner, with khaki walls covered in earth-toned mosaics that flank a corner juice/espresso bar; unlike his fam's previous 24-hour joint's, Stax is focusing solely on breakfast & lunch, meaning Kiefer Sutherland will have to find someplace else to sleep while waiting for another starring role. To help wake up your tastebuds classics include batter-y goodness from pancakes (pineapple upside down, white chocolate-raspberry, ricotta w/strawberry-rhubarb...), to hot ham & cheese crepes topped with honey mustard, to blue corn & bacon waffles w/ pecans & whipped cream, which will get on top, cop, and not stop pretty much whenever Prince tells it to. Eggs!: a prosciutto-n-parm take on the benedict served on polenta cakes, bacon, egg & cheese sliders, and omelets like the chorizo/poblanos/fire-roasted tomato/queso fresco Spanish Harlem, the daily consumption of which would explain why one name couldn't describe all that Maria is.
Those there at lunch'll find predominantly sandwich action, from falafel sliders w/ roasted pepper aioli, to an egg-topped B.L.T, because frankly it wouldn't be a Diner if it didn't at least feature some Bacon.