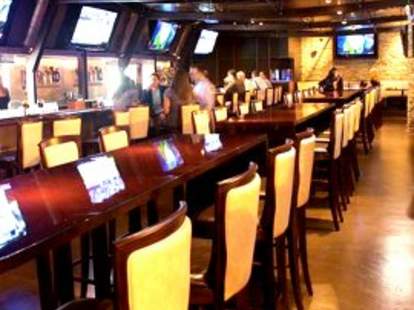 It's been said that when you're alone and life is making you lonely you can always go downtown, but how does downtown feel about being besieged with a bunch of sadsack frownyfaces? Much better now that they've got Sweetwater
Soft-opening this week and grand opening Monday along Michigan Ave, Sweetwater is the downtown bar/grill counterpoint of Wicker Park's Boundary featuring a similar blend of comfort and luxury -- tall brown and creme leather booths, dark woods, and a wavy ceiling that recalls the bar's name (now it's your turn Grandma Flo).
Menu wise they're turning out many Boundary faves like the Fiesta burger (pepperjack/jalepenos/guac/chile aioli) with a few new tricks like the Sunnyside Up, a cheddar/mozz/bacon burger kicked with a fried egg, pepperjack/bacon wrapped Cajun shrimp, and for the less cheese-enthused an ahi tuna wrap with crispy wontons and Chinoise dressing, something you're more used to enjoying with all those fetish peep cams.
For thirst quenching purposes there's a nearly 70-strong selection of craft beers from familiar suspects like Bell's, Great Lakes, Unibroue, and Half Acre (Christopher Robin subdivided the crap out of that wood!).
Since an evening of egg-topped-burgers and lager can sometimes leave one craving calories, they're rocking a massive skillet cookie for the dessert-minded that's ideal for sharing, but go for it on your own, and your worry will be helped by all the noise and hurry.