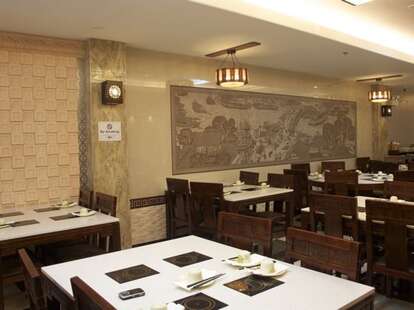 Americans have long recognized the importance of doing things for yourself, which is why they hired that British guy to teach that stuff on Man vs. Wild. Giving another lesson in self-reliance, China-style, Tao Ran Ju.
Just opened in Chinatown, TRJ's a 50-plus seat hot pot palace that's outfitted with black and white burner-equipped tabletops that transfer some of the cooking responsibilities onto you, like an Easy Bake Oven, except you don't have to hide the black and white table-topped ovens in your sister's room. The hot pot process starts with the selection of a broth (hot & spicy, miso, seafood, etc) which'll be the medium for cooking up all manner of a la carte veggies and a dizzying array of proteins ranging from the familiar (lamb, pork, lobster) to more esoteric fare like duck tongue, pig kidneys, and goose intestines, which Maverick forlornly cast out to sea in the exceptionally gross director's cut. For those who prefer things done for them, there's an equally long list of stuff available grilled up skewer-style (shrimp, pigs feet, just about every part of a chicken), Japanese-style noodle dishes, an assortment of pork buns, served pan-fried or steamy -- it'll be a challenge to keep Ker-mitts off of them.
Because bringing you booze would make things too easy, TRJ's a BYOB joint, meaning you have to do the wine buying yourself, but hey, at least you're not surviving on scorpion anus.