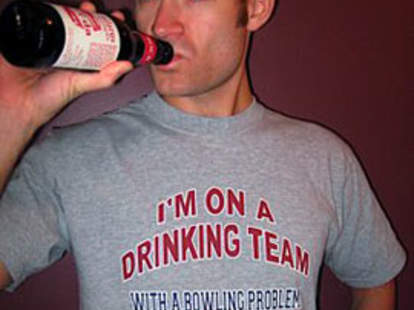 While a man needs t-shirts, wasting time rummaging through Salvation Army bins and heavily-marked up vintage shops only means the "I'm With Stupid" arrow should be pointed back at you. Get tees quick and cheap, with Teecycle.org.
Started by a Chicago guy & a Milwaukee couple, Cycle's a blog-styled t-shirt store vending one-of-a-kind standouts for just $10 (including S&H), all culled from garage sales, thrift stores, and friends' closets, hopefully with their permission. Destination-inspired tees include the baseball-styled "Putting the Sin in Wisconsin Since 1848", one w/ "New Lennox" printed five times in varying eye-chart-esque sizes, and a black w/ light-blue lettering number reading "The Suburbs Show", hopefully hosted by a Kankakee soccer mom from one of Letterman's donated gazebos. The rest range from a rabid red "nWo" logo over a snarling wolf, an off-white "Johnny Cash is a Friend of Mine" job, and the gray "I'm on a Drinking Team with a Bowling Problem!" (shut the f**k up, Donny).
Furthering its enviro-friendliness, Cycle donates a buck from every sale to the Milwaukee-based River Revitalization Foundation -- an organization whose tees'll soon end up worn ironically by some cheap, lazy user of Teecycle.