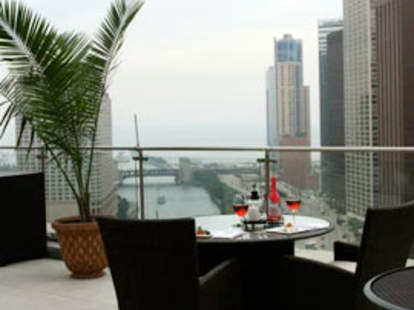 If you were to ask Michelle Tanner if being the third sibling meant being creative to get attention, she would almost certainly reply "You got it, dude". Shamelessly flaunting their own third sibling status, The Terrace
The third venue in the Trump Tower following sibs Rebar and Sixteen, The Terrace, soft opening Monday and hitting it full-tilt on Thursday, is 75 seats of outdoor lounge/table/bar seating enveloped in lush green landscaping and an espresso/cream color scheme that calls attention to itself with a dazzling view of downtown, though children are mercifully shielded from the sight of the towering Hancock.
The seasonal menu starts with small plate options like oysters on the half shell with homemade tabasco, summer gnocchi (spinach, fresh corn, and lump crab), and crispy duck leg with carrot coulis and a soft spring roll, which totally breaks down if you put on The English Patient.
More substantial selections include a cheddar 'n caramelized onion-slathered prime sirloin burger on brioche, balsamic glazed salmon (bamboo rice, tomato relish), and roast chicken with polenta and English peas, finally giving you an opportunity to unleash your arsenal of Neville Chamberlain apPEASement jokes.
Should dining/dropping pennies on pedestrians make you thirsty, they're mixing up nautically themed cocktails like the "Bon Voyage" (cherry vodka, cayenne syrup, fresh sour mix) and a lemon and Thai basil-infused Patron and Cointreau concoction with a pink peppercorn salt rim called the "First Mate", which given her love of meth, was almost certainly Stephanie.