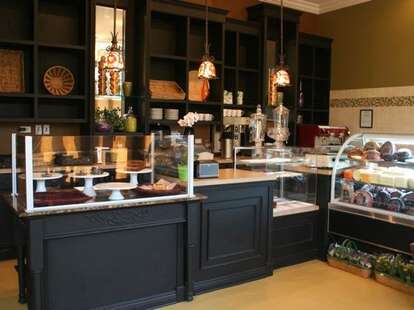 Being smaller has its benefits -- tiny clubs provide more intimate concerts than massive stadiums, and when it comes to intimacy you wouldn't know what being tiny is like, so yeah, you rock. Scaling things down to fill you up, Wicker Basket Cafe.
From a husband and wife team who recently shuttered their big suburban grocer, WBC's a cozier hybrid deli/cafe/specialty market with a 30-seat sidewalk patio and room for another 30 inside, featuring olive and coffee colored walls, dark wood shelves stocked with fresh-baked-bread-stuffed wicker baskets, and light fixtures made of stained glass, which unlike Staind glass don't feel So Far Away. Or suck. The deli's turning out specialty sandos including blackened salmon with arugula/red onion/whipped avocado, a turkey & pear ciabatta panini w/ cranberries and walnuts, and the PB/blackberry jam/banana (on cinnamon sugar challah) Gooey Monkey (until you've had it, you won't bo-know-bos what you're missing). There's also a bounty of freshly prepared items you can take home or have warmed up on the spot, from thin-sliced seven-layer eggplant parm, to beef tenderloin in pesto sauce, to spinach stuffed shells, to spicy tomato tarts, which act all saucy until you tell them they're fruits.
Rounding it out's an espresso bar (serving Metropolis coffee) pushing baked tasties like rustic apple galettes, white chocolate-cranberry-oatmeal cookies, blueberry cheesecake danishes, and long French baguettes, which really aren't that impressive, or so your girlfriend assures you.