Whiskey Tavern's Shot Bracket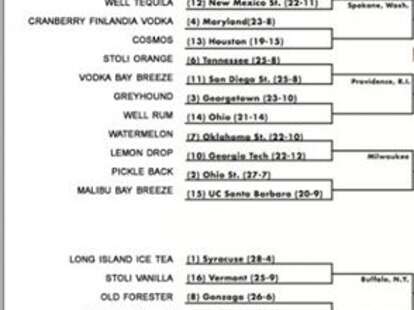 While super fans watching the tourney from a bar may be powerless to help their team hit a big shot, they are capable of ordering big shots for themselves. Unless they're AC Green. Now those shots can also show love for your squad, thanks to Whiskey Tavern's Shot Bracket special.
Playing every game on one of their four generous panels, the brown-masters behind Tavern are unlocking their booze closet in celebration of March Madness, pairing every single team with a different designated shot that's avail at the discounted price of $4 whenever that team is on air (so get your Wofford White Russian while you can). Tied together by various criteria, obvious team/tipple tandems include color themes (Lemon Drops for the Yellow Jackets, Cranberry Finlandia for the 'terps), team, er...composition (Vermont = Stoli Vanilla), and regional tie-ins including Evan Williams Bourbon for Kentucky, and the Margarita for Texas, as the beverage was invented by a Dallas socialite...in Acapulco, but when you're as big as Texas you can just take what you want. More grand/tenuous pairings include Herradura (aka The Horseshoe) for Murray State due to their equine racing mascot; the Blue Hawaiian for BYU due to the island's large Mormon population; the Woo Woo shot for Oakland, home of the bub rub whistle; Red Stag for Louisville's resident party animal, Rick Pitino; and a Red Headed Slut for Lehigh -- who did they have to sleep with to get into this thing?
In addition to the masterfully themed bracket, Tavern'll be offering everyday low prices on their bar grub menu, plus el cheapo High Life, Miller Light, and Natty Light cans, the purchase of which will prove your allegiance to the most important school of all: COLLLLLLEGE!!!!