You don't necessarily need professional training to excel at something -- after all, look at Eddie DeBartolo -- he won five Super Bowls with the Niners armed only with a background in looking exactly like Joe Pesci. For a taste of untrained Mexcellence, hit Don Pisto's.

Opening today in El Raigon's virtually unchanged North Beach stead is DP, a casual joint for elevated Mexican street food (inspired by "all regions") that's ambitiously helmed by a dude whose only applicable experience includes managing, serving, and stuffing his face in Mexico, a hobby he enjoyed so much, he just had to stuff yours. The eat-in/take-out grub ranges from the Vera Cruz shrimp cocktail (with charred tomato and smokey chilis, and white wine), to slow-braised carnitas tacos, to the signature hamburguesa that's marinated with bacon/onion and topped with guacamole, since you know you like power tops. The pork's strictly Niman Ranch, the freshly butchered beef's from NB's Little City Meat Market, and none of the fish (for tacos and ceviche) is farmed; salsa and guac's made fresh throughout service, and for dessert there're hot churros, which don't even compare to Tijuana's Hot Burros, who you definitely didn't lose your virginity. Next question!

Libations range from 9 Cali/Latin American vinos (4 red, 4 white, 1 sparkling), to house sangria, to six bottled beers, e.g., Modelo, Lagunitas IPA, Sol -- because even though you've never learned to sing, no one can argue you're not a Sol man.
Recommended Video
Roasted Red Pepper Deviled Eggs: Perfect for Parties, Grandma-Approved
Previous Venue
Next Venue
Venue Description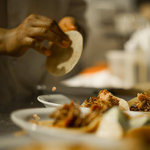 1. Don Pisto's
510 Union St, San Francisco, CA 94133
If you were convinced you couldn't find good Mexican in North Beach, think again -- this hip eatery even gives Mission joints a run for their money. Served by a friendly staff, Mexican street eats dominate the menu, such as ceviche, tacos, and tamales, but the real show-stopper here is the whole lobster that's big enough for two. Dip it in heavenly cilantro garlic butter, then go to town creating absolutely decadent tacos with all the fixin's.