When you've got something good, you want to experience it in all its dazzling variety -- if not, how come you can't enter your kitchen without climbing over the Costco Frosted/Honey Nut/Berry Burst Cheerios 3-pack? Do it with tequila, at Ortega120. Tsotchke'd up with Dia de los Muertos figures and toy low-riders, O120's a casual Mexican joint on PCH in Redondo Beach, with a tortillaria at the entrance, car-upholstered banquettes in the main room, and (most importantly) a central, black-topped bar stocked with 120 tequilas, one for every minute you once hung with Matt Pinfield. Selections range from "barrio tequilas" like Montezuma and Jalesco, to standbys like Sauza, to a $60 sipper of Partida Elegante; specialty cocktails are also anejo'd up, e.g., the Patron Silver Pomegranate Ginger Margarita and the grapefruity Sauza Hornitas "La Luz", translated as "The Light" (to be drunk, not walked into). To soak it all up, O120 serves up tortas, tacos, etc, plus heartier dishes like chile rellenos w/shortrib, and carnitas w/chile verde, cotija cheese, and lime-scented rice -- doggy bag some to use as potpourri after a long night of carnitas w/ chile verde. Soon, O120's adding tequila flights to its arsenal, with special attention paid to complimentary flavor profiles -- because tequila's become such an expansive category, the wrong trio could end up going down like Cheerios, Lucky Charms, and Fiber One.
Recommended Video
This Burrito is Loaded With Taquitos
Previous Venue
Next Venue
Venue Description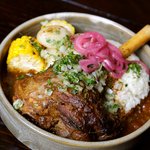 1. Ortega120
1814 S Pacific Coast Highway, Redondo Beach, CA 90277
On the PCH in Redondo Beach, Ortega 120's a beachside Mexican joint that looks and feels like a resort on the Mayan Riviera. There's a lot to love here -- Dias de los Muertos design, great food, and killer cocktails. You'd be wise to get the tequila pairing and the tour de tacos.