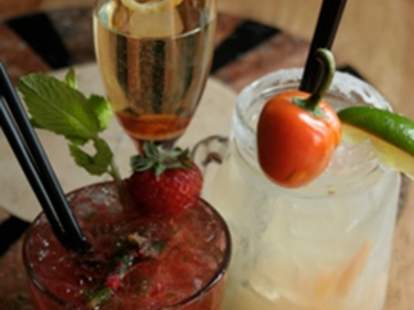 No matter your later experiences, it's the lessons learned from parents that stick, like the importance of hard work, and that Kojak is the balls. Bringing those lessons to the cocktail game, Su Casa, grand opening the 10th.
A brick-walled, Mexican-steezed 2nd floor spot rocking a flat-screened marble bar up front and a candle-lit, woven-banquette'd, wooden DJ-booth'd lounge in the back, Casa specializes in painstakingly crafted, homemade-organic-mixer abetted cocktails that trend toward tequila, all dreamed up and dished out by a former club GM who learned mixology at the hands of his exacting parents, serving up martinis for parties at 13 while all the other kids were out getting laid. On the tweaked-classic tip, there's the Champagne-topped Grace, with elderflower liquor, orange & peach bitters, and a cube of brown sugar; a Reed's ginger beer Dark & Stormy that drops rum in favor of Herradura Anejo; a cointreau-tinged 16oz house margarita; the Su Casa Paloma with Squirt instead of grapefruit juice; and an orange Kool-Aid/Patron number that'll make perfectly clear why the Kool-Aid Man's always punching through walls. For more fruit, there's the anejo/raspberry liqueur Satan's Horse, topped off with freshly minced ginger and Red Bull; a strawberry mojito w/ fresh muddled organic s'berries and local mint; and the devastating El Diablo: lime juice and El Jimador Anejo muddled with habaneros so hot, you have to sign a waiver to drink it, just like grade school field trips, except now the spitting llama is you.
Light bites from the downstairs kitchen're also available, from quesadilla samplers and 3-cheese queso dip, to soft tacos and burritos stuffed with everything from steak to grilled zucchini/squash/red peppers, then sauced with the likes of zesty ranchera and ancho chili BBQ -- or go sauce-free in a style named after your inherited hero, The Bald.