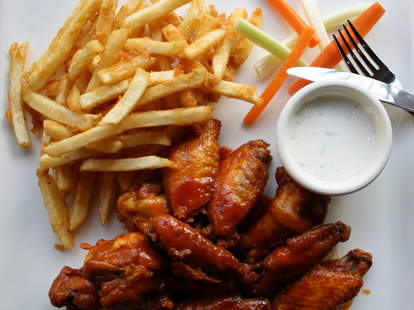 Savvy owners name restaurants for their best features, like The Cheesecake Factory being named for its delicious main offering, or those cannibals at Wendy's doing the same -- seriously, when's the last time you saw that girl?! Named for its crowning attribute: Arlington Rooftop Bar and Grill.
From an owner building atop his previously opened Delhi Dhaba, the massive Rooftop's got a first floor fronted by a 40ft mahogany/cherry bar, leather booths, and floor-to-ceiling windows, a fireplace'd second floor mezzanine (rentable for private parties), and the namesake: a sprawling skydeck with a stonework bar and 360 degree views of Clarendon/Court House, meaning you'll be able to look down on everyone in Arlington even more. High-altitude headiness comes via 12 drafts (like Bell's Amber and Dogfish Head Indian Brown Ale), 30+ wines by the glass or bottle, and a ten-strong specialty cocktail list highlighted by the rum/ black raspberry liqueur/ creme de banana "Rooftop Rum Runner", the sweet vermouth/ bitters/ cherry "Bourbon Bath", and the sugar-rimmed, mint-sprig'd, fresh orange/ pineapple/ lemon/ lime/ vodka "Juice of a Few", decided on after realizing one could only wring so much Juice of a Foo out of Dave Grohl's beard. For eats, they've got hearty American mains like a surf & turf with sauteed spinach/roasted garlic sauce, a cajun-spiced shrimp and Andouille sausage linguine with roasted red peppers/ onions/ garlic cream sauce, and half-or-full-rack bourbon BBQ ribs slow roasted for six hours and then heavily sauced, though the pig probably would've preferred to be prepped in the opposite order.
Before long, they'll also be hawking a daily-rotating lunch and brunch menu made by hand, though not of hand, like that sick Dave Thomas.