Waterside dining on an island in Biscayne Bay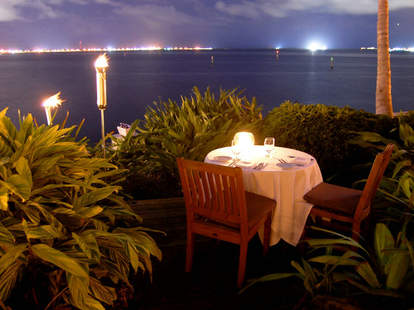 Location can really affect the mood of an experience: proposing on the beach can make things even more romantic, at least until DiCaprio sleeps with the old chick who runs the commune and all hell breaks loose. For a resto set in one of the most tropically romantic locales in Miami, hit Gibraltar.
Set in the northern tip of Grove Isle, Gibraltar gutted the southern colonial Baleen space (sorry, no more monkey statues) and imbued it with a more modern vibe, while retaining the killer views of Biscayne Bay via the indoor/outdoor patio and semi-private tables dotting a palm-covered knoll down to the water; they're plating a seafood-intensive menu from a CIA-trained chef who's earned his stripes at NYC's Le Bernardin and as the chef for Donald Trump, who would routinely come into the kitchen and tell chicken fingers "You're frier-ed!". The feasting starts with small plates like roasted pumpkin tortellini w/spiced pistachio/sage/maple sauce; steamed mussels, coconut & coriander w/ a sauce of mint, tomato & lobster oil; and prosciutto with Gorg, honeycomb, pickled onions, and strips of pig fat (cured with rosemary and other spices) called lardo -- so you guys can, like, bond over what life was like in junior high. Robust entrees include a Florida striped bass fillet with black olive farro, preserved lemon, and sun dried tomato vinaigrette; fresh water trout with lemon-pine quinoa, tomato compote, and a shellfish sauce; prime steaks (8oz filet/14oz strip) with a Caymus Cab reduction; and a spice-roasted yellowtail snapper with mustard cabbage, sherry-mushroom broth, and rock lobster -- not the first time Fred Schneider's shared the stage with snapper.
You can placate your date's romantic dessert craving with lavender panna cotta with mango-basil chutney and sugar croutons, "Notorious" Key lime pie, and malva pudding w/ caramelized sponge cake & ice cream made with ginger snaps -- the very redhead diss that so infuriated Tilda Swinton, and sent that whole island just spiraling out of control.