A laid-back cafe in...the Grove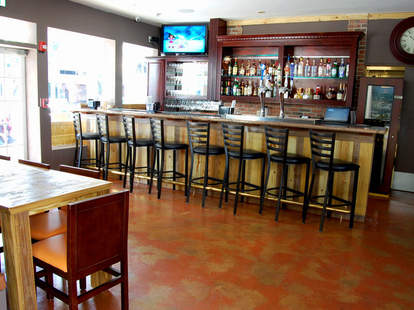 The Dutch make people think of wooden shoes, "coffee" shops, and Hans Brinker, who courageously saved the country by sticking his fingers in a...well, you know the story. And aren't you at work? Now think about a Dutchman making you food, at The Grove Spot.
The G Spot DOES exist, and it's a "Grand Cafe" from the jolly Netherlander behind Pommes & Pane, with a sunny porch, homey exposed brick/wood/window-heavy front bar room, back dining room with a leisurely vibe, and a menu comprising breakfast, lunch, and dinner that's continental style with an American twist -- exactly what made Mr. Checker Chubby. Breakfast nets you American, European, and Latin-style coffees, bacon, egg & cheese hoagies, and Bangers & Eggs, while lunch slings sandwiches like the garlic-rubbed Cuban-style Palomilla steak sandwich w/ horseradish and prosciutto & fresh mozz on a baguette; any time of day you can score the coveted house fries (given a secret "Dutch treatment" and cooked in a fries-only fryer) with dipping sauces like curry ketchup, ginger mayo, spicy mustard, and peanut sauce (so delicious, people are even willing to talk to Linus at parties for it). Salad-included dinners're all under 15 bucks, including a 6oz seared tuna steak, the Grove Spot Beefsteak (7oz tenderloin seared in butter with a peppercorn sauce), pork tenderloin medallions seared w/ mushroom-cream sauce & lingonberries, and a breaded veal cutlet w/ red cabbage and mashed potatoes, aka, wiener schnitzel, aka, the funniest thing anyone in fourth grade has ever claimed someone else eats.
G's got a full liquor bar, plus tap beers like Blue Moon, Pilsner Urquell, Stella, and Yuengling, bottles like Land Shark, and Negra Modelo, and a M-F happy hour from 4-7 that works on almost everything -- cheap enough to give you the liquid courage you'll need to approach the nearest dam-sel.